Since I have no longer a root server I moved my emails to Gmail. I love Gmail because it's working in the browser, too. Like in the good old days on mail.com. But with more style.
Another benefit is that you don't need to setup Thunderbird, Apple's Mail App or any other MUA software - again and again and again[1] from scratch on each new PC. You don't need to mange your server, keep looking for the newest security patches for your server software or keep the server software up running.
Gmail looks pretty well with Compact display density and Gmelius Chrome Extension. So why not[2]?
I have a Persons folder for all interactions with real people. There also exist a subfolders for each person I know personally or for people I regularly interact with.
For all other emails I got there is a Misc[3] folder. But there also exist folders like Amazon, eBay or Apple. I also have a Notifications folder for all notifications from Facebook, Twitter, Travis CI or something like this which are skipped from inbox.
When I get a new email or when I send an email I move them into folders. So my inbox is always clean.
For all emails I sent and for which I'm awaiting a response I mark them with purple-question[4]. TODO emails are marked with yellow-bang mark. Urgent TODO emails with red-bang mark. So I have all email I'm awaiting a response and all TODO emails in Starred bundled.
All filters I create says Never send it to Spam, Never mark it as important. I only hand select emails I guess that they are Important to me such like with login credentials. Google doesn't know what's important to me. They guess but they actually don't know.
I also have extra filters for mailinglists. So my inbox is clean from mass emails. When I want to read the emails from the mailinglists (once a day) I'm going to the MailingList folder.
Using keyboard shortcuts makes Gmail very fast. Don't need to click. Press Shift+? to get an overview of all keyboard shortcuts on Gmail.
Inbox
Another recent tool made by Google is Inbox.
It reformates your filter settings. Inbox rolls up your painful hand-crafted filters and you can't undo it automatically. You may think that if you change something in Inbox that it doesn't effect Gmail. But you're wrong. All it does is to serve your emails in another way and change in the background your Gmail settings. Inbox is made for people who are bad at managing emails. If you already have no system to mange your emails Inbox could be a solution for you. And also if you already don't use Folders (Labels), Stars, etc. of Gmail.
But the fact is: you don't need all these Zero Inbox-tools to manage your emails. It's not that hard. If you have a working solution it's possible with plain Gmail or any other mail software.
Inbox has no Compact view. Everything is big. This isn't my style. I like the compact view of Gmail very much. And on all other Google products my favourite is always the compact view. Simple things are the best.
This is what Google Inbox looks like: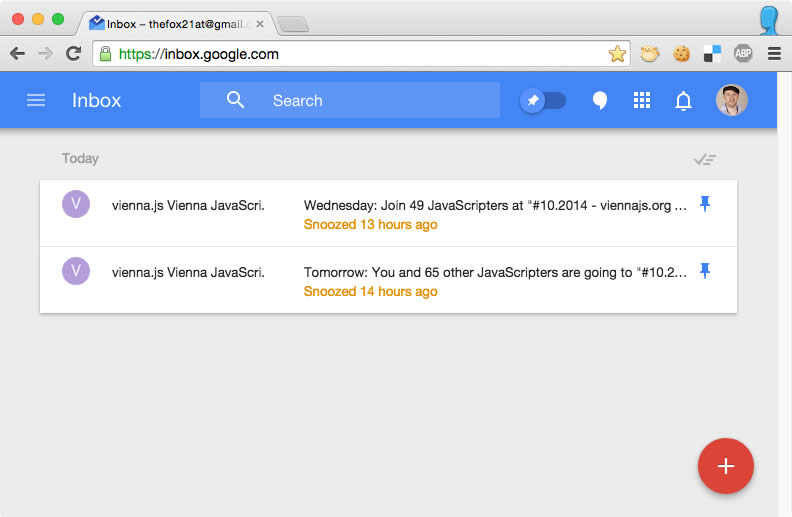 It only works in Google Chrome yet.
Footnotes
[1] Because Desktop Software developers can't use Dropbox or any other damn cloud software to sync the damn settings to the damn Internet. They don't make it. Even if it's already the year 2014 they still don't get it. But you know, it's just Software.
[2] Yes I know, beside the fact that Google reads all your emails.
[3] Miscellaneous
[4] Settings » General » Stars